News:
I have a solo exhibition, The Portrait of Dora Maar & Other Works by Ellen Wetmore, from May 1-21, 2015 at Living Arts in Tulsa, Oklahoma.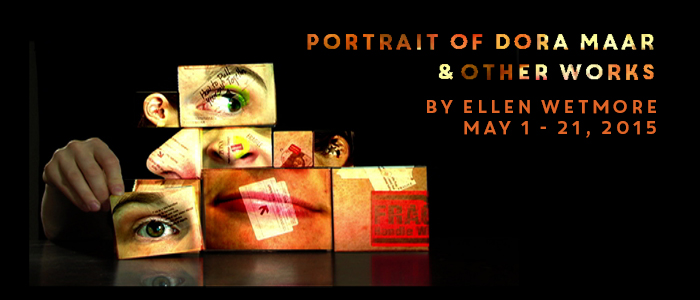 2015 Summer in Italy!
In June 2015, I will teach a course in Venice, Florence and Rome.
From June 25-28, I will show work (my own and my students) at Festival Crack! in Rome.
From June 22 - July 6, I will be a Visiting Artist at the American Academy in Rome.
Documentation from Stain at the Quarry International Arts Center in Acton, MA can be seen on vimeo here. In 2013, I participated in The First Biennial Festival of Sound Art and Performance Art, curated by Geoffrey Koestch in the Quarry in Acton, MA.
I have work on the Boston Convention Center Marquee: Pacing and Bouncing Blue Boy. Article: Boston Magazine. You can view the full program every Sunday night through April at 8pm. The latest work on the marquee is Frescoes.
Famous:
"A darkly comic mural using comic-book-style illustration makes surreal connections between mother, child, and breast; the last is clearly an entity unto itself," Cate McQuaid, The Boston Globe.
Videos that "creep under your skin", a review of Nourishment and Boston Cyberarts by Greg Cook for the Boston Phoenix.
I was profiled in Art New England, in February 2008 by the inimitable Ellen Howard, "Drowning in Milk, Burning in Flames: Ellen Wetmore." Best pages of my life...
Check out the radio interview "Inquiry", hosted by Mark Lynch on WICN Worcester Public Radio, about Trainscapes, with me, Nick Capasso, and Ralph Helmick, 2007.
Read this GREAT article in the Boston Globe: "Fitchburg couple blends art and humor", by Cate McQuaid